Discussion Starter
•
#1
•
My car is almost at the magical 50,000 mile mark, so this weekend I am going to drop the trans pan and change the filter. I know there has been some confusion on here about whether it should be done or not, on the 4-spd auto is recomended to have a filter change and fresh fluid at 50,000. GM trying to help get business into dealerships didn't put a dip stick on the trans in this car, but I am sorry, I am not going to pay the dealership $170 for something I can do myself for $80.
So how do you know how much trans fluid to put in after the filter change? There is a level check bolt on the passenger side of the transaxle, right above the pan flange near were the axle comes out. Here is a pic.....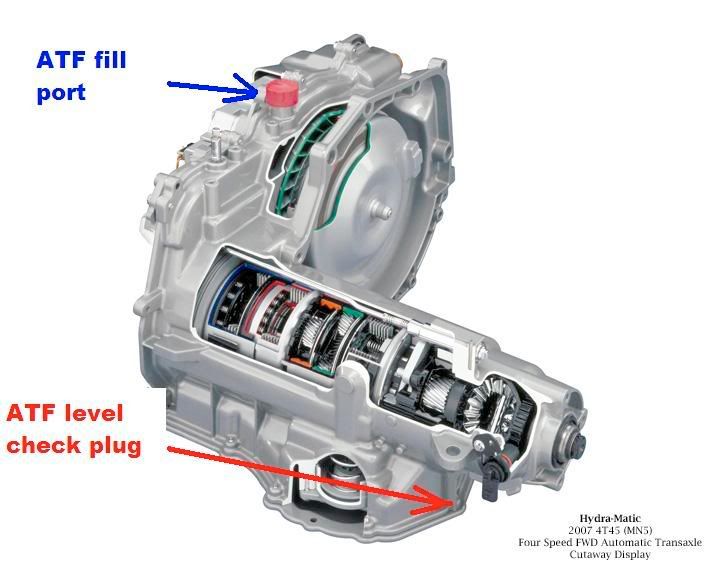 What you do is once you get the new filter on and pan put back on, you add 7quarts of trans fluid and then start it and let it run a few minutes and shift it through the gears a few times and let it warm up a bit and then pull the plug out. If no fluid is visible or coming out, then you add fluid till it comes out and then stop adding fluid, and when it stops coming out it is full.
I wanted to use Mobil 1 Dexron VI Synthetic ATF, but I can't find it anywhere so I picked up some Castrol Synthetic Blend Dexron VI for $7.50 a quart which wasn't a bad deal. I will take a few pics tomorrow when I am doing it and put them on here so ya'all can see how it went.